A ban on selling new petrol, diesel or hybrid cars in the UK will be brought forward from 2040 to 2035 at the latest, under government plans.
The change comes after experts said 2040 would be too late if the UK wants to achieve its target of emitting virtually zero carbon by 2050.
Boris Johnson unveiled the policy as part of a launch event for the UN climate Summit COP26 in Glasgow in November.
He said 2020 would be a "defining year of climate action" for the planet.
Sir David Attenborough said at the launch event at London's Science Museum that he was looking forward to COP26 and found it "encouraging" that the UK government was launching a "year of climate action".
"The longer we leave it… the worse it is going to get," he said.
"So now is the moment. It is up to us to organise the nations of the world to do something about it."
In a statement made ahead of the launch, Mr Johnson said the ban on selling new petrol and diesel cars would come even earlier than 2035, if possible.
Hybrid vehicles are also now being included in the proposals, which is a sharpening of the original proposal launched in July 2017.
People and companies will only be able to buy electric or hydrogen cars and vans, once the ban comes into effect.
The change in plans, which will be subject to a consultation, comes after experts warned the previous target date of 2040 would still leave old conventional cars on the roads following the clean-up date of 2050.
The Scottish government does not have the power to ban new petrol and diesel cars but has already pledged to "phase out the need" for them by 2032 with measures such as an expansion of the charging network for electric cars.
Mr Johnson said the 2050 pledge was necessary because the UK's "historic emissions" meant "we have a responsibility to our planet to lead in this way".
Mr Johnson said: "Hosting COP26 is an important opportunity for the UK and nations across the globe to step up in the fight against climate change. As we set out our plans to hit our ambitious 2050 net zero target across this year, so we shall urge others to join us in pledging net zero emissions. There can be no greater responsibility than protecting our planet, and no mission that a global Britain is prouder to serve."
AA president Edmund King said: "Drivers support measures to clean up air quality and reduce CO2 emissions but these stretched targets are incredibly challenging."
The chief executive of the society of motor manufacturers and traders (SMMT) accused the government of "moving the goalposts". "With current demand for this still expensive technology still just a fraction of sales, it's clear that accelerating an already very challenging ambition will take more than industry investment," Mike Hawes said. He said the government's plans must safeguard industry and jobs, as well as ensuring current sales of low emission vehicles were not undermined.
Source: BBC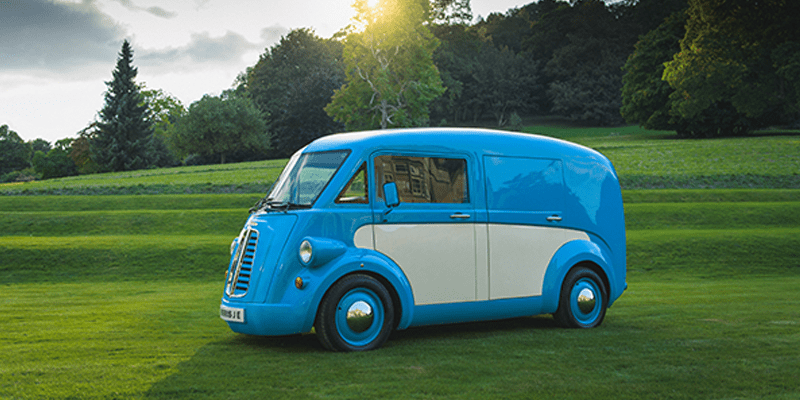 For companies with small and large fleet of vans it is important to have clarity on the timelines for phasing out diesel and petrol vehicles. Fleets are run over a period of about 8 years, which means that the planning of renewing the fleet is done far in advance. Morris JE will start production at the end of 2021 and offers boutique companies as well as companies with big fleets the opportunity to start renewing their fleets with electric Morris JE's well ahead of 2035. Morris JE meets the user's high expectations of functionality, while offering cutting edge technology and the most stylish van option out there at the moment.