This is the story of two days inside the London ULEZ with our splendid zero emission Morris JE all electric van, between supporting the BBC at the ExCel and exhibiting at the Regent Street Motor Show. Find a photographer (Neil Frazer), work out a route, get some "edgy" East End shots and some "stylish" West End shots and of course, make people smile on the way as we always do with the Morris JE! Adopting what Neil calls "Guerrilla Shooting" … chase car (Tesla EV of course), some pre-determined targets, but also stopping and shooting anything fun on the way, avoiding payments, tickets etc. So let's go!
First morning, sun shining, Morris JE looking great and attracting attention immediately. Bethnal Green overground station then a great breakfast and shots at Breid bakers! Next, street art shots around Rivington Street and Brick Lane. Wherever we stopped, there's always a huge crowd taking selfies. I must have been handed a hundred phones to take pictures for people before we managed to head off to the starkly contrasting City of London with its geometric forms like the Lloyds Building etc. Southwark Bridge gave us shots of the city skyline and round to the bustle and bright lights of Borough Market in the early evening.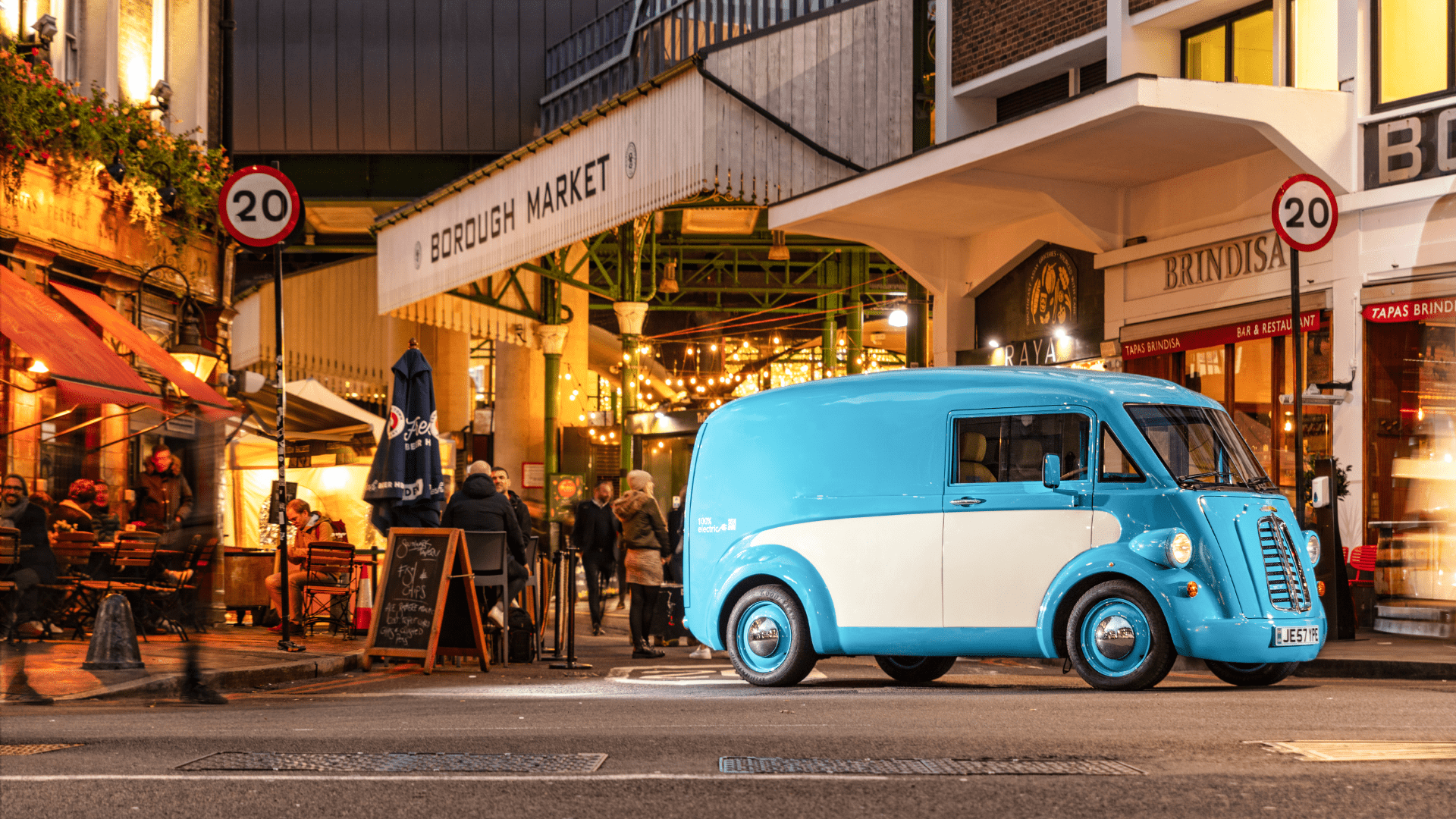 Second day, frosty but sun again at New Covent Garden Flower Market, where there is a great view of Battersea Power Station from the car park. The iconic style of the Morris JE against an iconic background. Then a great circuit over Albert Bridge where the blue skies and white bridge structure matched the Morris two-tone colours so well and on to Chelsea Harbour, Harrods, the Royal Albert Hall, The Red Lion pub in Mayfair, Fortnum's, The Langham and then finally to Leake St Arches, a fabulous street art venue made famous by Banksy in 2008 with his "Cans Festival". Ha ha! On three occasions local security initially challenged us but then became Morris advocates, opening gates, giving us keys etc. The Morris JE van brings such goodwill!
In these two long days, we'd criss-crossed the Congestion and Ultra Low Emission Zones without paying a penny. We'd taken scant notice of many "taxi only", "loading only", double yellow lines and in all the time, we only got one PCN…and that was for the Tesla!
Our Morris JE attracted enormous attention, generated hundreds of positive comments and brought thousands of smiles to London. We've captured lots of great shots, so watch out for these in the near future and in the meantime, here is a version of the video. Please enjoy!